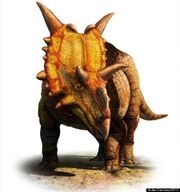 The Xenoceratops is a fan made AJ animal. they are Ceratopsians or horned faces.
Actions
Sit: Similar to a rhino.
Play: It Mock Charges, then stops.
Dance: they do the romp.
Sleep: Their legs are spread out under them.
Hop: They just barely leap up.
Trivia
they are about the size of a rhino.
Xenoceratops means "Foreign Horned Face".