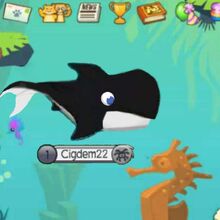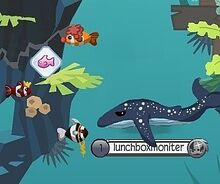 The Whale is a fan-made members-only ocean animal. It costs 1,000 gems.  
Appearance
The Whale appears to be a big baby blue, joyful, and spiritful animal. When first purchased, their default appearance consists of blue circular eyes, with a kawaii effect.
Actions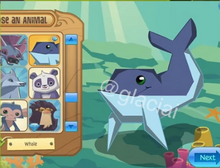 Pose- The Whale's Pose Is Inspired By The Dolphin's, However The Tail-Flukes Are Straight Instead Of Shrimp-Curved.
Swirl- Spins In Circles In A Swirl Motion.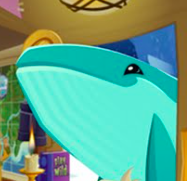 Dive- Dives Deeply Into The Water, Almost Off-Screen.
Dance- Does An Irish Jig And Flips Frontward.
Play- Singing/Humming A Beautiful Harmony. 
Trivia
The Whales' have their own underwater cave in the adventure "In Too Deep.."