The porcupine is a fan-made land animal. They are members-only. It can be bought for 10 diamonds in the Diamond Shop.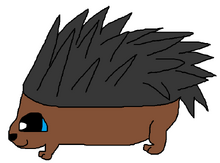 Appearance
The porcupine has spiky fur on it and black nose and a spiky tail. When purchased, their spiky fur will be colored dark grey for its body for color one. Their face and paws will be brown for color two.
Actions
Play: They shoot their quills.
Dance: It does a break dance.
Sleep: It on it's belly.
Jump: It will jump like a fox and a bunny, But faster.
Sit: They sit like a real porcupine.
Trivia
They are bigger then bunnies.