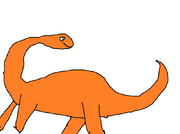 The apatosaurus in real life was a massive sauropod, bigger than even an elephant. In Jamaa though, it is much, much tinier, being the size of an AJ tiger.
Actions
Sit: It sits Down Tall and High.
Dance: It spins on it's tippy toes.
Sleep: it Sleeps With it's head still in the air and the rest of it's body on the ground.